NEOBOARD Chrome Extensions for E‑commerce Merchants
If you use Google Chrome to browse, you probably are familiar with its extensions. Nevertheless, how can you maximize their benefits so that your online store runs more efficiently? Find out what extensions are the best for eCommerce sellers in our special selection.
Do you know about Google Chrome extensions?
There are a number of small programs called Chrome extensions that allow you to customize your web browsing.
Chrome extensions offer some advantages including:
Google Chrome can be customized to meet your specific needs by adding extra features.
You'll save time and effort. By executing certain tasks with fewer clicks, the extensions serve as shortcuts.
It is possible to perform specific tasks without changing or leaving the window you are currently in.
By activating alerts, you will receive notifications about topics that interest you.
You can find information about the page you are visiting with the help of some extensions.
As complementary tools, they often have a free version with the basic features, and a premium or paid version with the more advanced features.
Note: Extensions for Google Chrome should not be confused with other types of add-ons, such as plugins, modules, or apps you install from your store. Installed Chrome extensions affect only your particular browsing experience, and only those extensions are installed in the navigation bar.
Find out more about the best plugins, modules, and apps for your store on our ecommerce blog. Today we talk about the NEOBOARD Chrome Extension which is help into your Ecommerce Seller Account.
NEOBOARD Features are under below as :
Ecommerce store seller conversation
E-commerce Revolution
Translate
Message Template
Track Package
Calculator
eBay fees Calculator
Amazon Negative Feedback Removal
Ecommerce store seller conversation
Neoboard expansion serves to eCommerce store business account holder, discussion with the client. Like merchant have a business record of Amazon, eBay or some other eCommerce store, neoboard augmentation help them for the discussion. They can offer effectively response client's local language to utilize decipher work. Some basic answer can save as a layout, when it needs, at that point it mean the client's local language and send it. On the off chance that some client asks their bundle status, the client can check bundle status to utilize the neoboard track bundle work. Additionally client can ascertain the rebate, benefit and cost of things use number cruncher work.
E-commerce Revolution
– We save you 70% on schedule
– Start working rapidly with your clients
– Everything is on your augmentation, you at this point don't need to switch between tabs
– For the activities, you do consistently.
Translate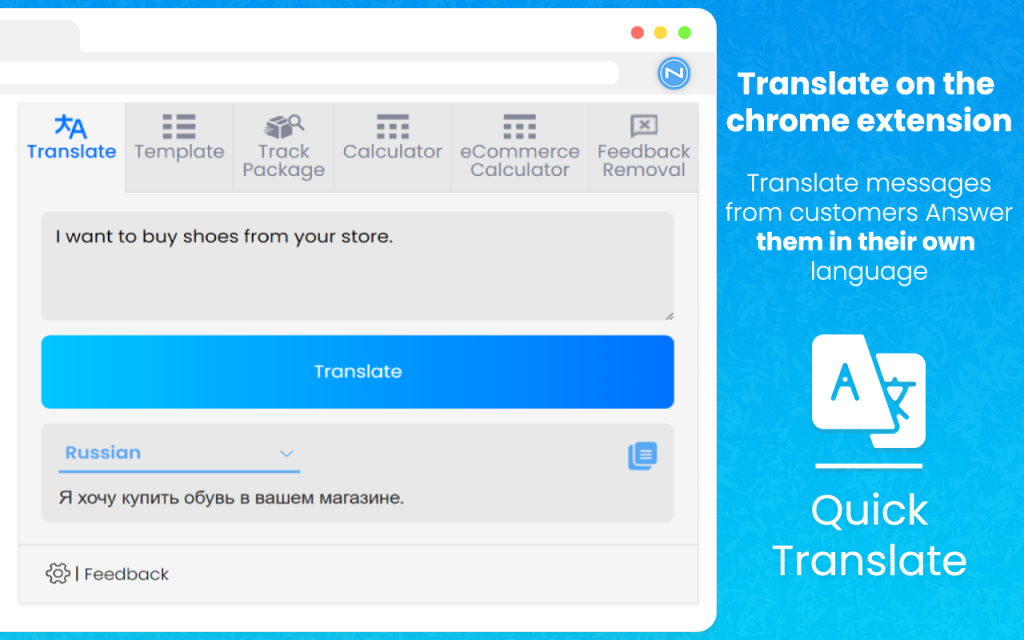 – High quality, quick interpretation, decipher discussions with your clients with a tick
– Translate text with 109 dialects.
– Set your essential language in choice page.
– Select to interpret text with distinguished language.
– Next you interpret with recognized language in discussion.
Message Template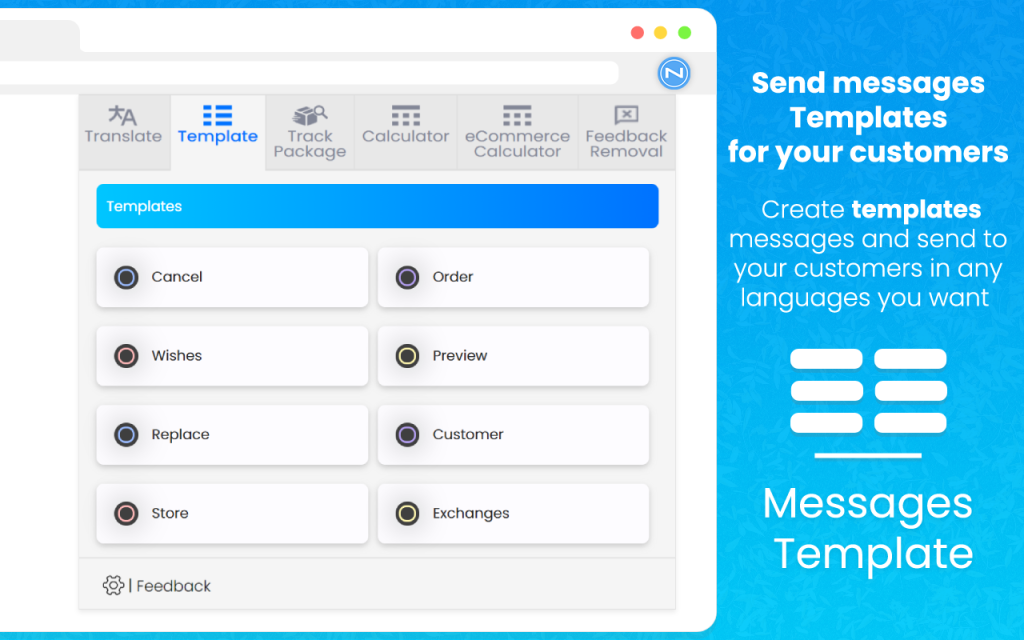 – Create layouts and send messages to your clients in 1 snap in any language.
– Save message format, which you use oftentimes.
– Like Thank You message, Best Wishes message, Cancel Order and so forth
– Create format from choice page.
– Translate format to click button in layout tab.
– Copy made an translation of text to utilize click duplicate symbol.
– Share duplicated deciphered layout in message body.
Track Package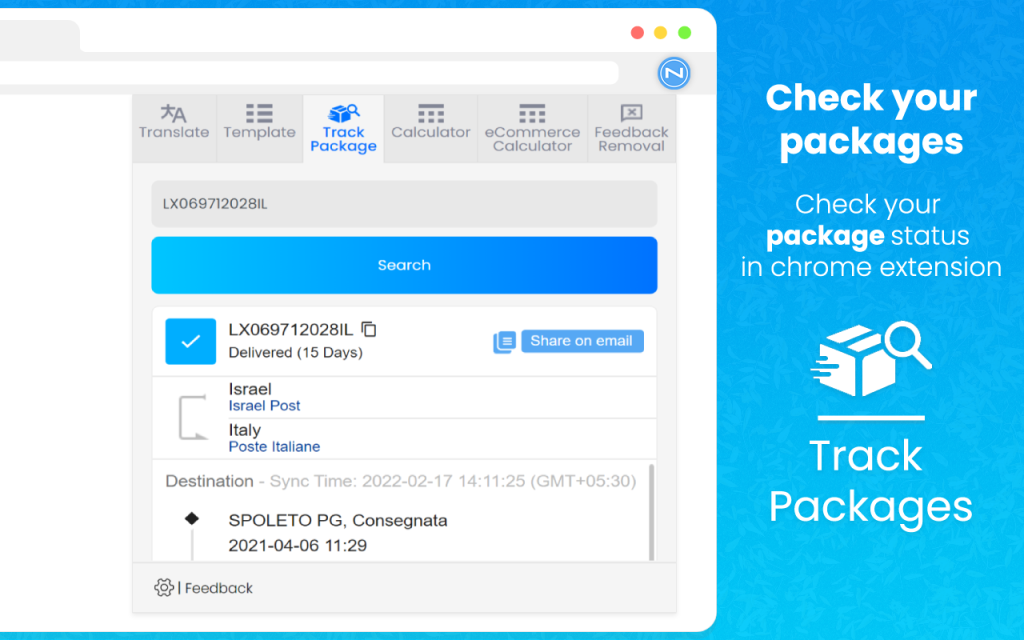 – Check where your customer's bundle is, without leaving the talk, So natural and basic.
– Track your bundle status.
– Enter your Order ID and select country.
– Find your bundle Carrier, area with date and time.
Calculator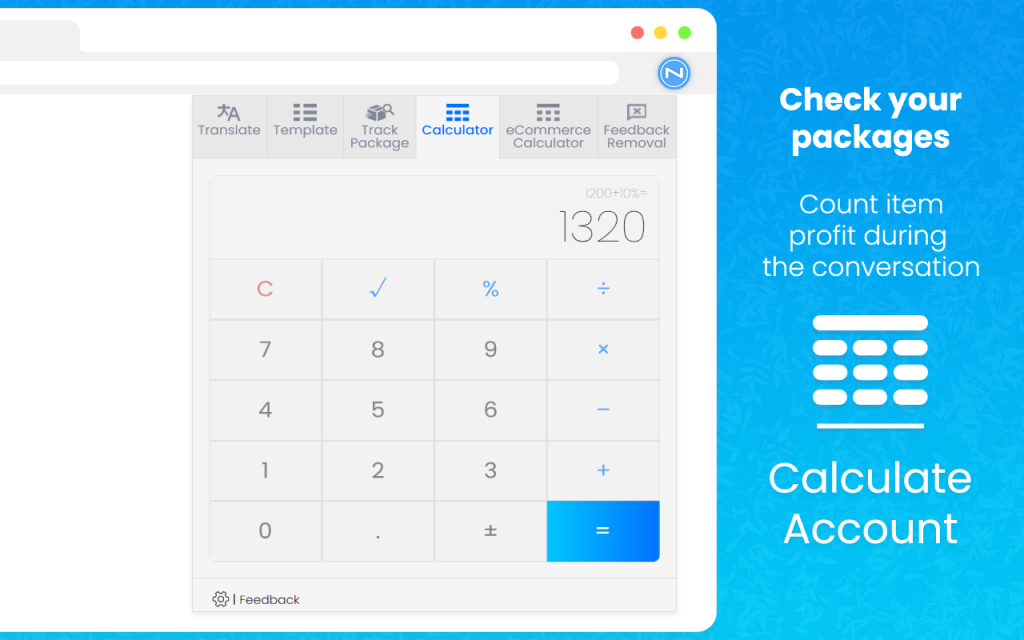 – Calculate your record.
– Count thing benefit during the discussion.
Ecommerce Profit Calculator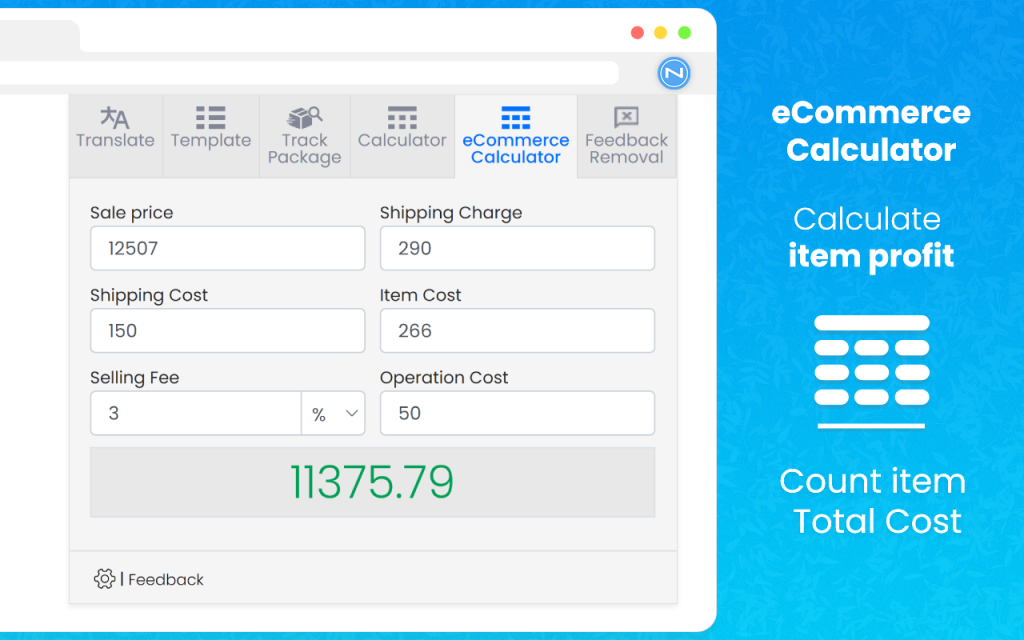 – The eBay charges Calculator has been totally worked with the entirety of the most recent updates.
– Calculate eBay merchant thing benefit.
– Included eBay Managed Payment. See charges and benefit for eBay Managed Payments.
– Included International Payment (PayPal charges a higher expense if the installment is coming from a record outside of the U.S.).
– Count pace of return (benefit rate). The 'Cost' field should be filled to see the pace of return.
– Promoted Listing field. Check under 'More Options' and enter promotion rate.
Amazon Negative Feedback Removal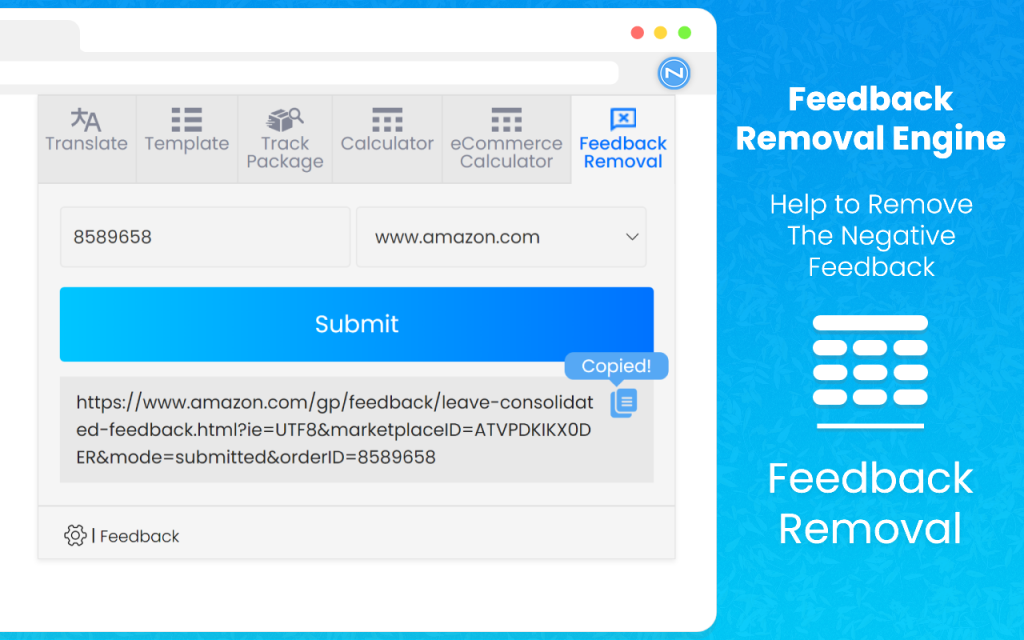 You stress over your merchant account negative input from client?
Just top off structure to enter clients request Id and select amazon channel, Submit to produce URL.
Copy to tap on duplicate symbol.
Send URL to your client for open to eliminate negative input.
So natural and basic. We know precisely what an Ecommerce vender actually needs.
Here we add five capacities in a single expansion, which valuable for online business venders discussion with clients. On the off chance that you not need or utilize any capacities you can conceal it from choice page.
Contact us
On the off chance that you have any inquiries, ideas or highlight demands, don't hesitate to present a report by tapping the Feedback button in the expansion's popup menu. You can likewise make an impression on info@navines.com whenever. Tell us your considerations! Much obliged to you.
Want to change your ways of dealing with your customers by saving your valuable time and efforts by installing Best Chrome Extensions For Ecommerce? then download our Ecommerce Extension.